Statement of Terms & Conditions
The SDSUcard identifies the cardholder as a student, faculty, staff or affiliate of the University. Upon receiving the card, the individual agrees to the following Terms and Conditions:
Each authorized patron at San Diego State University can obtain an SDSUCard-- a multi-purpose I.D. card, which must be presented to enter various campus facilities, and obtain certain services, such as checking out library books. The cardholder is responsible for observing the transaction amount charged to his/her account at the point and time of sale. The cardholder is responsible for monitoring his/her own account balance.
DEFINITIONS

SDSUcard- The official identification card and property of the University.
Cardholder- Official member of the University including enrolled student, faculty/staff and University affiliates.
Access Control/Key Issue- The University's access control system authenticates members' identification, credentials, and access privileges.
One Card- Campus currency associated with SDSUcard declining balance account.

AUTHORIZATION FOR PERSONAL USE ONLY

The SDSUcard is property of San Diego State University. Once an individual takes possession of the SDSUcard they agree to the Terms and Conditions identified herein and there are no refunds. The authorized holder of the SDSUcard has the responsibility to follow these privileges described in this Agreement.
Cardholder must pick up SDSUcard in our office, we do not release card to anyone other than the cardholder.
Proof of identification is required when obtaining an SDSUcard. Identification must be U.S. Government issued. Such as Driver's License, State/Government issued picture I.D., or Passports are accepted forms of identification.

LOST, STOLEN OR DAMAGED CARDS




A lost or damaged card may be reported 7 days a week, 24 hours a day, online at get.cbord.com/sdsu.
A damaged (including hole punched), defaced, or demagnitized card is not valid and must be replaced at the SDSUcard office. The initial SDSUcard is $25.00, and replacements are $25.00. The SDSUcard office is not responsible for replacing cards that have been damaged, demagnitized, or defaced.
It is the cardholder's responsibility to properly care for the SDSUcard. Hole punches are strictly prohibited.
Re-takes at the student's request will be subject to the $25 replacement fee. No refunds will be issued on basis of discontent of photo, from in office or online photo submission. $25 replacement fee will incur.

ONE CARD

Your SDSUcard can be used as a method of payment on campus.
You may add funds to your SDSUcard "One Card":

Online at Get.cbord.com/sdsu or on the GET app.
On campus at the Aztec Market, Bookstore, and at the Library.

Funds deposited into the cardholder's One Card are non-transferrable. Deposits will be posted to the cardholder's account for immediate use.
You may not withdraw funds, and overdrafts will not be authorized.

REGISTER FOR AN ACCOUNT

You can register for online account access to your SDSUcard at Get.cbord.com/sdsu.
In order to register for an account you will need to validate your personal information, and create a GET account including your email and password.

REPLACEMENT FEES

There is a $25.00 replacement fee for lost, stolen, or damaged cards.
Do not punch holes in, staple, or fold your card.
There is a $25.00 replacement fee for replacing a card for a legal name change. The cardholder must first officially change their name through the Registrar's Office.

DOOR ACCESS

The SDSUcard can be used to obtain access to buildings, and rooms on campus. The campus representative authorized to make decisions regarding the appropriate access for the cardholder may request access via Key Issue.

UNAUTHORIZED USE

Using the card of another person, allowing your card to be used by another person, or altering the card is strictly prohibited
Quick Facts…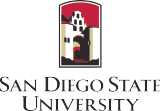 FOUNDED
1897AVERAGE TEMP
76 °F
LOCATION
San Diego, CAUNDERGRADS
23,036
TUITION (IN-STATE)
$17,926 ($6,766)ACCEPTANCE RATE
31%