New Students and Parents

On behalf of Student Account Services, welcome to the Aztec family! The following financial information will help new/prospective students and their families have a smooth transition to SDSU.
Announcements
SDSU's Transitioning to my.SDSU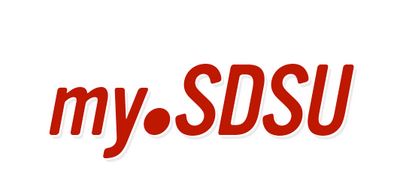 SDSU is transitioning to a singular portal: my.SDSU, that will streamline the enrollment, registration, financial aid and student accounts processes. In addition to this change, SDSU will move to a "post-pay model" for paying Basic Tuition & Fees. This means you will now pay tuition & fees in my.SDSU after you have enrolled in Fall 2022 classes. The due date for all Fall 2022 tuition fees will be September 12, 2022.
Note:
Please pay attention to emails and announcements from the
Student Financial Center
to stay informed about how to use
my.SDSU
to pay student charges and other items related to the student's financial account.
Parents:
For additional parent or support information related to my.SDSU, click
here.
Spring 2022 New Students: Fee Payment Date & Other Information
New first time freshmen and transfers who will begin enrollment for Spring 2022, shall pay their Basic Tutiion & Fees by December 13, 2021 to register for classes. If you have a financial aid fee postponement, you do not need to pay fees prior to registering for classes.
Here are some additional resources that will assist you with registration for Spring 2022.
Estimating Costs
The most substantial costs associated with attending SDSU are Tuition & Fees and on-campus Housing & Meal Plan fees. The Office of Admissions publishes Estimated Costs of Attendance each year which provides holistic cost estimates. You can also estimate the financial aid you may receive by using Financial Aid's Net Price Calculator.
Tuition Requirements
At SDSU there are three separate Tuition charges, but not all of them may apply to you. An overview is provided below. For detailed information please refer to the Tuition & Fees page.
Basic Tuition & Fees are required of all students attending SDSU.
The cost of Basic Tuition is dependent on your status (full vs part time) and program (undergraduate vs graduate). Please refer to the Basic Tuition table on our Tuition & Fees page to determine costs for your program.
Non-Resident Tuition & Fees are required for students who are not residents of California (international and out-of-state).
Non-Resident Tuition is charged at a rate of $396 per unit of coursework enrolled. For example, if you enroll in 15 units you would owe $5,940 in Non-Resident fees.
Professional Program Fees are only applicable to graduate students (MBA level) enrolled in the College of Business.
These fees are charged at a rate of $270 per unit of coursework enrolled. For example, if you enroll in 15 units you would owe $4,050 in Professional Program Fees.
On-Campus Housing
All incoming first-time freshmen from outside SDSU's local admissions area* are required to live on campus their freshman and sophomore years. For information about pricing please refer to the Housing Rates webpage.
*Students are in the local admissions area if they will graduate from a high school in San Diego County located south of state route 56 and extending eastward or from a high school in Imperial County.
Managing Educational Expenses
Paying for higher education can be a financial burden on both the student and family which creates stress for all involved. However, there are various resources available to help prospective students alleviate the financial burden.
To help you manage the cost of your educational expenses we offer Installment Plans (payment plans). Installment Plans are available Fall and Spring semesters for:
Basic Tuition & Fees
Non-Resident Tuition & Fees
There are no Installment Plans for summer/winter session, nor for Professional Program Fees.
To learn more please visit our Installment Plan page.
SDSU has many resources to facilitate student employment. You can gain valuable job experience and earn extra money at the same time!
Aztec Career Connection is a hub connecting students, alumni, and employers in San Diego and beyond. Log in to Aztec Career Connection to search for jobs and internships, upload a resume, and more.
Billing & Payments At SDSU
Effective Fall 2022, SDSU will become a post-pay campus which means, all students will be allowed to register first, and will be able to pay later. The due date for Basic Tuition and Fees (Non-Resident and Professional Program Fees) for the Fall 2022 term, will be September 12, 2022.
Fee Payment Deadline
The Fall 2022 fee payment deadline for all students will be September 12, 2022. Students must pay their Basic Tuition and Fees (Non-Resident, Professional Program Fees) in full to avoid enrollment cancellation.
Making payments online is fast, convenient, and secure. Step by step instructions, including visuals, for how to pay Basic Tuition & Fees are posted on
How to Pay Basic Tuition & Fees
.
The following charges are included on Student Statements (eBills):
You may request billing to a third party sponsor/agency for Tuition and Fees. However, as a student enrolled at SDSU, you are ultimately responsible for paying all balances owed. This includes balances defaulted by your sponsor.
To set up third party billing, please have your agency submit a Financial Guarantee* with the following:
Your name (the student)
Your student red ID number
The specific charges and term for which the agency will pay
Agency billing information and address
Name, signature, and contact information of the sponsor authorizing the billing arrangement
Purchase order information (for government contracts)
*Letters supplied by an organization for admissions purposes are not acceptable for third party billing.
Please remit your Financial Guarantee to Student Account Services via the following:
Fax: 619.594.4249
Email: Contact Form
In person: Student Services West, Room 2536
Mail:
ATTN: Student Account Services, SSW 2536
San Diego State University
5500 Campanile Dr
San Diego, CA 92182-7425
Parents & Privacy (FERPA)
"What do you mean you can't discuss the account with me? I'm paying the bills!"
The Family Education Rights & Privacy Act of 1974 (FERPA) protects the privacy of student education records, including financial records. For a student's information to be disclosed to anyone, the student must authorize the individual.
If someone other than the student will be paying the bills, a Parent Account may be created which will allow the individual to make payments to SDSU on the student's behalf. This user would also receive eBill notifications via email.
Log into WebPortal
Click "Update Privacy Settings" from the menu
Fill in the fields and click continue*
*Be sure to check the boxes for each office permitted to disclose information to the authorized individual. Once your Privacy Settings are updated we will be able to discuss information with your parent (or anyone else you authorize).
If someone other than the student will be paying the bills, a Payer Account may be created which will allow the individual to make payments to SDSU on the student's behalf.

Creating a Payer Account in my.SDSU.edu (effective Fall 2022) :
Please have your student login to their my.SDSU account.

Click on the "Financial Account" tile.

Select "Make payment".

Select "My Account" in the top left corner

Select "Payer" and follow the remaining steps.
Please note: A parent account via my.SDSU will only allow you to make general payments towards your student's account. Please work with your student to get specific detials of charges on the student account.
Creating a Payer Account (Summer 2022 and prior terms)
Log into the Online Student Account via Webportal or using your Payer Account link.


Under My Account, scroll down to Payers

Click Send a payer invitation

Fill in the fields

Send invitation
An email will be sent to the third party detailing instructions on how to log in. The temporary password must be changed within 48 hours of creating the account.
Note: simply creating this account does not satisfy FERPA Authorization. If you call us to talk about a student's information, you must have FERPA Authorization as well.
Student Financial Checklist
Review your Financial Aid via my.SDSU
Pay Basic Tuition & Non-Resident/Professional Program Fees by August 15th.
Provide FERPA Authorization for your family
Create a Parent Account for anyone who will pay your bills
Enroll in Direct Deposit
Opt-in for electronic delivery of form 1098-T
Read Money Matters (detailed student finance policies)
Campus Directory