COVID-19 and SDSU Flex Information
Welcome back to the Spring 2021 semester, Aztecs! This webpage was prepared to communicate information about SDSU Flex and COVID-19 as it relates to the operations of our office. While this semester will look different from past terms, we are steadfast in our commitment to providing the SDSU community with prompt, reliable, and secure financial services.
Our Health & Safety Pledge
The health and safety of all members of the SDSU campus community is paramount. For this reason and in light of the ongoing COVID-19 pandemic, we are operating in a minimal-contact environment during the Spring 2021 semester. Please read the information on this page and help us protect our students, faculty, staff, and loved ones by minimizing physical contact and abiding by physical distancing policies set forth by our office and the university.
Prioritize Online Payments
Now more than ever, online payments should be prioritized whenever possible. Not only will paying online help protect the health of you and our staff, but online payments methods are also quick, easy, convenient, and secure. Payments can be made by logging into your Online Student Account. We accommodate credit card, eCheck, and wire transfers.
There are a variety of ATM machines across the SDSU campus. Please consider depositing cash into your bank account and paying online using eCheck. Similarly, use eCheck as an alternative to writing a personal check.
529 Plan holders are encouraged to inquire with their financial institution/financial advisor about alternatives to physical check payments. Some plans will authorize users to transfer funds to their personal bank account, after which you may pay SDSU via eCheck. Other plans may offer to directly wire funds to SDSU.
For more information about online payment options refer to our Payment Options webpage.
Our Virtual Support Services
At Student Account Services we have implemented various virtual resources to ensure that students and parents are able to access the resources they need during the Spring 2021 semester. These services include:
1. Live Chat
Our primary and preferred method of communication allows you to text real-time with a staff member via the red chat bubble on our website. This feature is available* Monday - Friday, from 9 a.m. - 4 p.m. To use this feature, click the red chat bubble and from the list of buttons select "Speak With Live Agent".
*Please note: this button is only provided if a representative is available.
2. Virtual Meeting (Zoom)
The Student Financial Center is a virtual space to ask questions via Zoom regarding student accounts and/or financial aid and scholarships.
Beginning Monday, December 14, the virtual office hours are Monday - Friday from 9am - 5pm. Zoom Meeting ID 872-9357-5613.
Note: Parents are required to have FERPA authorization prior to discussing student information. Authorization is completed by the student in the Update Privacy Settings section in WebPortal.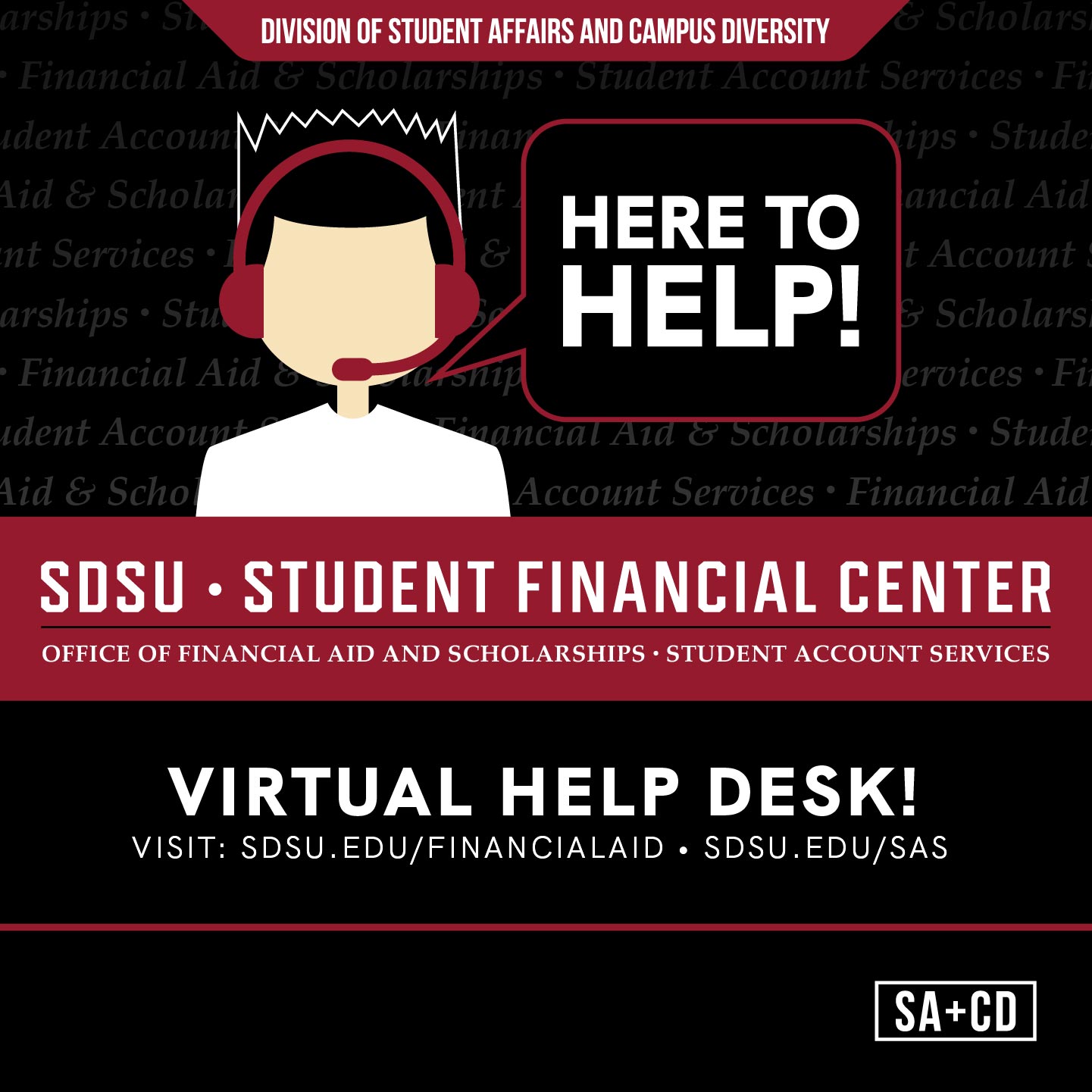 3. Email
After hours? Send us an email at [email protected] and we will get back to you as soon as possible. Due to staffing and the number of inquiries received our email responses may be delayed 5 - 7 days. Email is suited for after-hours communication when Live Chat or Zoom is unavailable.
Parents & Student Privacy (FERPA)
"What do you mean you can't discuss the account with me? I'm paying the bills!"
The Family Education Rights & Privacy Act of 1974 (FERPA) protects the privacy of student education records, including financial records. For a student's information to be disclosed to anyone (including parents), the student must authorize the individual. If you will be contacting us on behalf of your student, please verify that your student has provided FERPA Authorization before contacting us. Instructions are provided below:
To provide FERPA Authorization, the student shall:
Log into SDSU WebPortal
Click "Update Privacy Settings" from the menu
Fill in the fields and click continue*
*Be sure to check the boxes for each office permitted to disclose information to the authorized individual (i.e. Student Account Services/Cashier Office). Once your Privacy Settings are updated we will be able to discuss the student account with your designated individual.
If someone other than the student will be paying the bills, a Parent Account may be created which will allow the individual to make payments to SDSU on the student's behalf. This user would also receive eBill notifications via email.
To create a Parent Account (does NOT replace the need for FERPA Authorization), the student shall:
Log into the Online Student Account
Under Parent PINs section click on "Add New"
Fill in the fields*
Select the privacy settings
Submit the form
*The first field, "Parent or Authorized User Account", is referring to username for the account. This username must be unique; usernames such as "mom" or "dad" have already been claimed.
An email will be sent to the third party detailing instructions on how to log in. The temporary password must be changed within 48 hours of creating the account.
Note: simply creating this account does not satisfy FERPA Authorization. If you call us to talk about a student's information, you must have FERPA Authorization as well.
Limited In-Person Operations
We strongly encourage all payments to be made online and also encourage the use of online resources (AidLink, the Online Student Account, Live Chat, etc). During the Spring 2021 semester, we will have limited operations at our physical campus office (Room 2653 in Student Services West) to make a cash payments only. Student Account Services office will be open weekly on Thursday, from 9am - 3:30pm.
To ensure the safety of both staff and our customers (students and parents), we will limit occupancy in our office to four individuals at a time. We ask that you respect the physical distancing measures we have in place: a face covering is required at all times and we ask that you follow signage to stay 6 feet apart from others. For your health and safety, we will also have hand sanitizing stations for use as you enter and exit the office.
Spring 2021 Financial FAQ's
SDSU will not reduce tuition for Spring 2021. Tuition at the CSU is set by the CSU Board of Trustees. Furthermore, the CSU has said instruction on all 23 CSU campuses, including SDSU, is being conducted via hybrid, virtual and in-person (as exceptions) on a temporary basis to ensure that students continue their education and maintain their progress toward degree completion despite the current public health crisis. Therefore a refund, reduction, and/or proration of Tuition is not warranted.
Finally, the university does have a process for students to request a refund for tuition and mandatory fees based on special circumstances. These special circumstances include tuition and fees that were assessed or collected in error; the course for which Tuition and Fees were assessed or collected was canceled by the university; the university makes a decision that the student was not eligible to enroll in the term for which tuition and fees were assessed or collected; or the student was activated for mandatory military service. If you believe you can demonstrate exceptional circumstances warranting a refund, you may petition in accordance with the campus policy.
Mandatory Campus Fees are assessed to all students every term regardless of whether they are a full-time student, part-time student, online student or a student studying abroad – and even if they do not expect to ever use the programs or facilities they support. The Mandatory Campus Fees are based on the approval process involving previous cohorts of students, and the funding supports programs, services and facilities unique to the SDSU campus. The expenses related to these initiatives, such as full-time staff and part-time staff and student employee expenses, bond payments on buildings, and other costs to operate programs, are largely still occurring this semester. Students must understand that if they expect facilities and programs to be available to them now and in the future, they must of course be financially supported and maintained.
Student Resources
Disclaimer
Student Account Services recognizes the fluidity of the COVID-19 pandemic and information on this webpage is subject to change as San Diego State University continues to monitor the situation. Every effort is made to keep this page current and accurate. This page last updated December 30, 2021.