Student Billing

Student Billing Statements, known as "eBills", are published approximately on the 5th of each month with a due date of the 20th of the same month. Refer to the Billing Calendar below for an exact timeline.
Notice Regarding Basic Tuition (Registration Fees)
Effective Fall 2022, SDSU will become a post pay campus which means, students register first and pay later. All students must pay Basic Tuition & Fees each term. Instructions for submitting an online payment for Tuition are available below.
Billing Information
When a student is billed for charges due to SDSU, Student Account Services will send an email notification directing the student to log into the Online Student Account. Any Authorized Users will also receive billing notifications; refer to the Parents & Privacy section on the New Students & Parents page to learn how an Authorized User can view & pay a student's bills.
It is important that students and others paying bills check the Online Student Account regularly. Students are responsible for submitting payments on time regardless of whether a notification is received or not.
The following charges are included on Student Statements (eBills):
*University Charges is a term that represents a variety of campus-related fees. The following items make up University Charges:
Unpaid Tuition & Fees
Lab Fees
Course Fees
Health Services Fees
| Statement Date | Due Date |
| --- | --- |
| May 4, 2021 | May 20, 2021 |
| June 4, 2021 | June 20, 2021 |
| July 5, 2021 | July 20, 2021 |
| August 5, 2021 | August 20, 2021 |
| September 6, 2021 | September 20, 2021 |
| October 5, 2021 | October 20, 2021 |
| November 5, 2021 | November 20, 2021 |
| December 6, 2021 | December 20, 2021 |
| January 5, 2022 | January 20, 2022 |
| February 7, 2022 | February 20, 2022 |
| March 7, 2022 | March 20, 2022 |
| April 5, 2022 | April 20, 2022 |
| May 5, 2022 | May 20, 2022 |
| June 6, 2022 | June 20, 2022 |
A sample student Billing Statement (eBill) and explanation of the information contained in the statement is provided below. If you have questions about a bill contact Student Account Services:
"Live Chat" by clicking the red chat bubble on this page (staff available Mon - Fri, 9 am - 4pm)
Email:

[email protected]
Note: the Billing Statement may be redesigned in the future.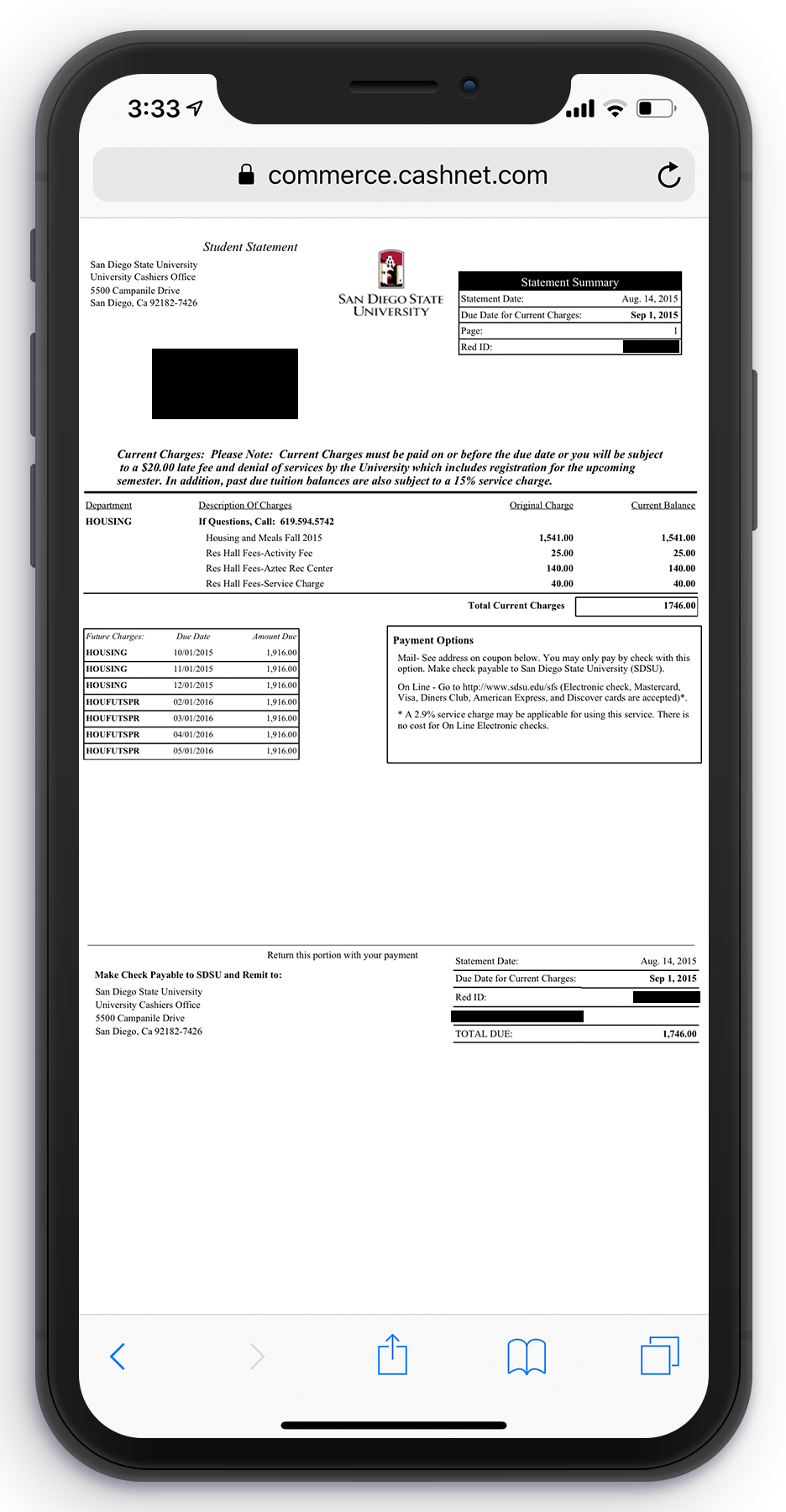 Statement Summary
Indicates student for whom the bill was prepared as well as the statement and due dates.
Description of Charges
Provides an overview of your bill, including any late or current charges in addition to the amounts due and the total bill amount.
Future Charges
Outlines upcoming charges including their due dates and projected amounts due.
Payment Options
Explains how payments may be made (in person, online, or via mail).
Payment Stub
Repeats the total bill amount due and indicates how checks should be addressed if mailing payment (do not mail cash). Cut out and include this portion in the envelope
Late and Delinquent Payments
Fees incurred are subject to billing in accordance with the billing calendar above. Students are liable for all charges not paid by external sources i.e. financial aid funds and sponsor agencies.
5th of the month (approximately) - statement (eBill) sent to student email and any parent account email(s).
20th of the month - statement (eBill) is due.
21st of the month - payment is late.
Penalties applied - bills are penalized one week past the due date.

Late Fee - $20 fee assessed approximately on the 27th of the month.
Cashier's Hold - hold placed on student account approximately on the 28th of the month. Prevents services from the university (class registration, grades, etc).
Meal Plan Hold (if applicable) - hold placed on Meal Plan on the Monday one week after the 20th of the month for delinquent housing installments. Prevents the ability to use meal plan.

Internal Collections - after 44 days past due, bill will be moved to internal collections with SDSU and additional debt collection efforts will begin, including collections fees.
External Collections - SDSU reserves the right to send debts to an external collections agency after six months. Debts sent to an external collection will impact your credit score.
FAQs
Arrange for payments to be made whether out-of-pocket or addressing any FAFSA requests from the Financial Aid Office via
AidLink
. If you have third-party funding and/or concerns, contact
[email protected]
.
A meal plan is placed on hold for past due meal plan balances. When this happens, pay for your meals with cash, debit or credit and keep your receipts. The receipts must be from locations where meal plans are accepted and within the stipulations of your meal plan. Itemized receipts are required from locations that serve alcohol in order to obtain reimbursement.
After your late payment is made, notify Dining by phone at 619-594-7640 or email at [email protected]. Once verified, they will remove your meal plan from hold. Once the hold has been removed you may continue using your meal plan and if applicable, email your receipts (in order by date) to Dining no more than two weeks after your hold is lifted for a refund. Remember to leave adequate funds in your meal plan to cover your reimbursement amount and to include your RedID and name in all correspondence.
Log into AidLink to see if financial aid and scholarships have been awarded or if additional information is needed. If funding has been awarded, there may be additional action needed depending on the type of aid. Grants and scholarships are automatically applied to your account, but you are required to activate student/parent loans. Also, you could have been selected for verification and may be required to turn in additional information. For assistance with Financial Aid awards please contact the Office of Financial Aid & Scholarships.