Student Billing

Student Billing Statements, known as "eBills", are published approximately on the 5th of each month with a due date of the 20th of the same month. Refer to the Billing Calendar below for an exact timeline.
Notice Regarding Basic Tuition (Registration Fees)
SDSU does not bill students for registration fees. All students must pay Basic Tuition & Fees prior to registering for courses each term. Instructions for submitting an online payment for Tuition are available below.
Step 1: Log In
Log in to your Online Student Account
Step 2: Navigate to Make a Payment
Once logged in click on Make a Payment from the menu
Step 3: Select Term From Categories
From the Category box, select the appropriate term (for example: Spring 2020)
Step 4: Select Appropriate Fee Item From List
A new screen will appear. Select the appropriate fee item from the list.
Basic Tuition is listed under Fees for Undergraduate Students
Non-Resident Tuition is listed under Non-Resident & Foreign Tuition
Step 5: Click View Details for Correct Charge
Carefully read the descriptions for the listed charges. Identify the correct charge and click View Details.
Step 6: Confirm Charge & Add to Basket
Review the description and confirm you have identified the correct payment. Once verified, click Add to Basket.
Step 7: Check out
You are prompted to continue shopping if you would like to add another item to your basket. If you are ready to check out, you may simply click Check Out. Your basket is always accessible from the menu.
Step 8: Select Payment Option & Submit Payment
You may select a saved payment option, or new payment option. Choose the payment option you want and click Continue Checkout and follow the prompts on the subsequent payment screens.
Step 9: View & Print Receipt
Once you have submitted your payment you may view and print your receipt.
Billing Information
When a student is billed for charges due to SDSU, Student Account Services will send an email notification directing the student to log into the Online Student Account. Any Authorized Users will also receive billing notifications; refer to the Parents & Privacy section on the New Students & Parents page to learn how an Authorized User can view & pay a student's bills.
It is important that students and others paying bills check the Online Student Account regularly. Students are responsible for submitting payments on time regardless of whether a notification is received or not.
The following charges are included on Student Statements (eBills):
*University Charges is a term that represents a variety of campus-related fees. The following items make up University Charges:
Unpaid Tuition & Fees
Lab Fees
Course Fees
Health Services Fees
| Statement Date | Due Date |
| --- | --- |
| July 6, 2020 | July 20, 2020 |
| August 8, 2020 | August 20, 2020 |
| September 4, 2020 | September 20, 2020 |
| October 5, 2020 | October 20, 2020 |
| November 5, 2020 | November 20, 2020 |
| December 4, 2020 | December 20, 2020 |
| January 5, 2021 | January 20, 2021 |
| February 5, 2021 | February 20, 2021 |
| March 5, 2021 | March 20, 2021 |
| April 6, 2020 | April 20, 2020 |
| May 4, 2020 | May 20, 2020 |
| June 5, 2020 | June 20, 2020 |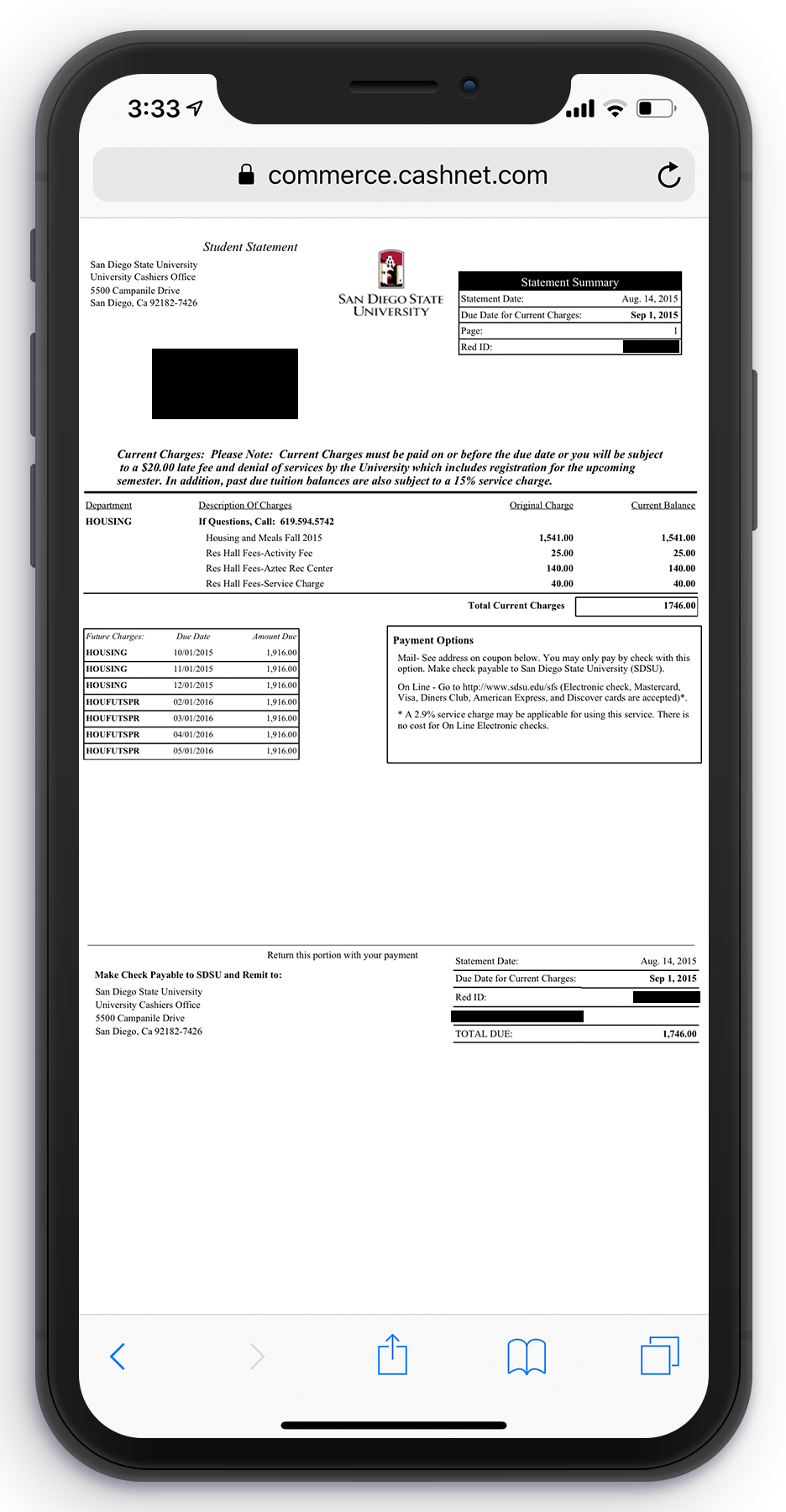 Statement Summary
Indicates student for whom the bill was prepared as well as the statement and due dates.
Description of Charges
Provides an overview of your bill, including any late or current charges in addition to the amounts due and the total bill amount.
Future Charges
Outlines upcoming charges including their due dates and projected amounts due.
Payment Options
Explains how payments may be made (in person, online, or via mail).
Payment Stub
Repeats the total bill amount due and indicates how checks should be addressed if mailing payment (do not mail cash). Cut out and include this portion in the envelope.
For questions related to the Billing Statement call 619.594.5253
Note: the Billing Statement may be redesigned in the future.