Using your SDSUid: pay your tuition and fees online, see your account activity and statements, enroll in direct deposit and installment plans, and get your 1098-T forms.
Contact Student Account Services by filling out our online webform.
The Student Financial Center is a virtual space to ask questions via Zoom regarding student accounts and/or financial aid and scholarships.
Announcements
American Rescue Plan (HEERF III) - August 2021
San Diego State expects to release the third round of emergency grants to eligible students as early as August 2021 (prior to the start of the fall semester). For more information visit COVID-19 FAQs on the Office of Financial Aid & Scholarships website.
Live Chat Hours

Have you noticed that red chat bubble in the corner of our webpages? During weekday business hours, 10:00 am - 3:00 pm, you can click to communicate real-time with our staff members (if any are available).
Don't see a button to connect to a live agent? That means we currently have no available staff members online. Try asking the chatbot your question, or check back later.
1098-T Forms Now Available Online

1098-T forms are available online. Simply log in to your Online Student Account and on the main screen look for the 1098-T section. There will be a link for your to view and download the current 2020 form (in addition to prior year forms). Note: 1098-T cannot be accessed from a parent account.
If you are waiting for 1098-T to be delivered by mail they will arrive at the end of January. We encourage all students to access their forms online, and to consider clicking the button to sign up for electronic delivery only (option located in the same section).
We Have a New Virtual Assistant!

Student Account Services has a implemented a Chat Bot (virtual assistant) to assist in answering basic student finance questions. To utilize the Chat Bot click on the red chat bubble in the lower corner of the screen to ask your questions. Please be patient as the Chat Bot is still learning.
If the Chat Bot is stumped by a question you ask, please submit a ticket with additional information regarding your question to assist in making it smarter.
You can also call our office at 619-594-5253 to get answers to any questions our Chat Bot is unable to answer. Thank you for your help and understanding as work to enhance the student and parent experience.
Go Aztecs!
The Year At A Glance: Registration & Finances

SDSU is a pre-pay university meaning Basic Tuition & Fees are due prior to registration. SDSU also has an early registration cycle; plan ahead and don't get caught off guard!
Spring registration begins in November—in the middle of the Fall semester. Basic Tuition is due before you are able to register for the Spring term. If you are not a California resident, Non-Resident Tuition must be paid in addition, but is due before classes begin in January.
Fall registration begins in April—in the middle of the Spring semester. Basic Tuition is due once more before you are able to register for the Fall term. Non-Resident Tuition, if applicable, is due before classes begin in August.
Learn more about Tuition & Fees.
Student Involvement & Representation Fee (SIRF) Information
SIRF is a optional $2 fee assessed twice a year (Fall and Spring semesters) to all California State University (CSU) students in order to fund the California State Student Association.
Sign up for Direct Deposit to receive your eRefund
Have you signed up for Direct Deposit (eRefund)? More information about Direct Deposit (eRefund)
Once logged into your Online Student Account, click on "Transaction History" under Your Statements. You'll be able to see when your financial aid was applied to your university charges and /or sent to your bank.
A refund of financial aid will show as "Financial Aid Refund". Check your bank account 2-3 days after the refund date.
Don't see any transactions in your transaction history? Check your AidLink. You may have holds or required documents.
Student Financial Center
The Student Financial Center is a virtual space to ask questions via Zoom regarding student accounts and/or financial aid and scholarships.
Beginning Monday, September 13th, the virtual office hours are Monday - Thursday from 9 am to 4:30 pm and Friday from 9 am to 3:30 pm (PST).
Zoom Meeting ID 872-9357-5613.
Note: Parents are required to have FERPA authorization prior to discussing student information. Authorization is completed by the student in the Update Privacy Settings section in WebPortal.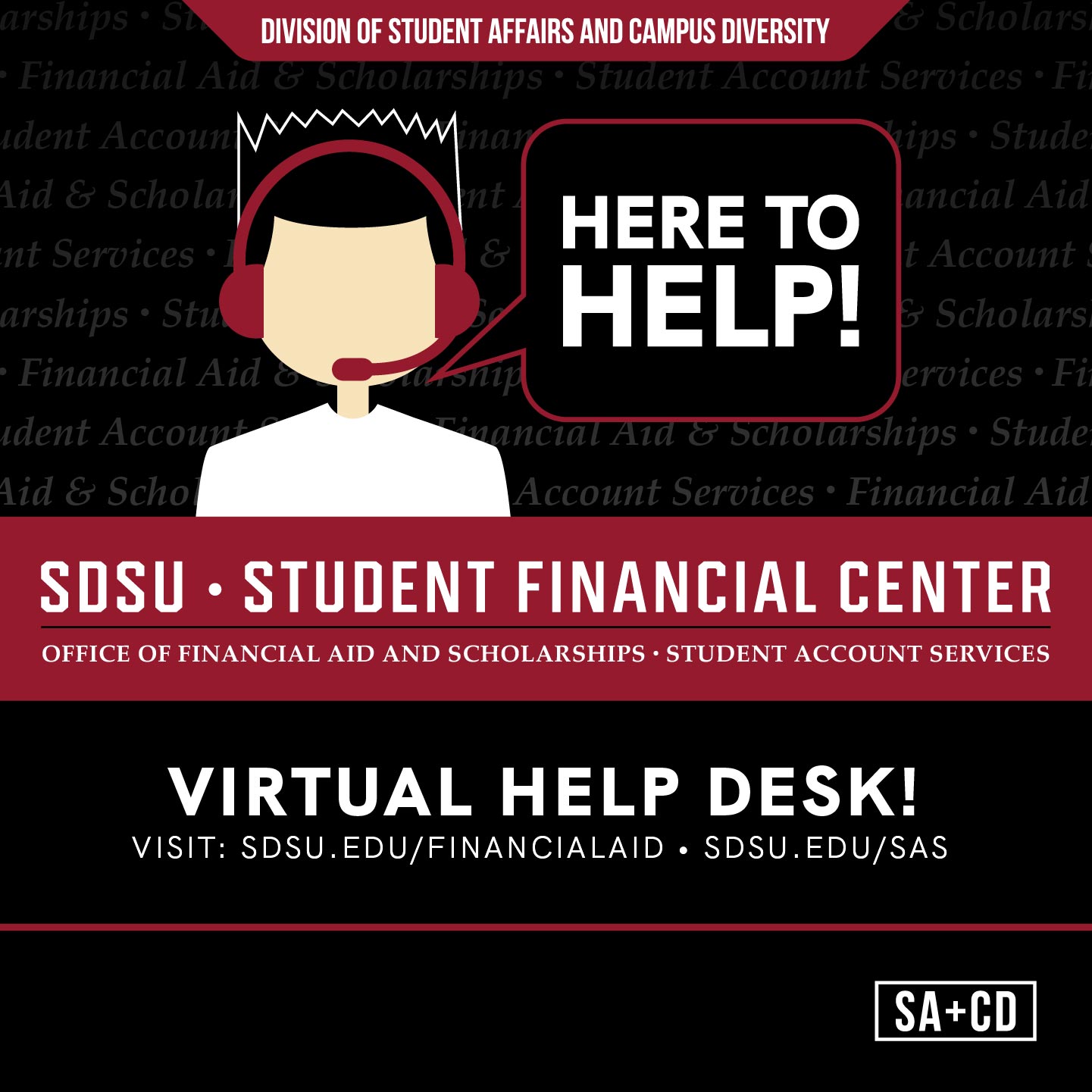 How to Make a Payment For Basic Tuition & Fees