Car Share
Zipcar
Zipcar is a carshare service that gives faculty, students staff (who are 18 years+) access to vehicles for trips on and off-campus. Use Zipcar as an alternative to the costs and hassles of owning or renting a car through a network of shared on-demand vehicles. Each membership allows users to rent a car with gas, insurance, maintenance, and 180 miles/day included in every reservation. Vehicles are able to be booked via app or through the website by the hour or day.
Zipcars are self-service with easy to use mobile app keys and booking systems. The cars are available 24/7, and live right on campus in Parking Lots 5 and 8 (coming soon) (see Campus Map). Other off-street parking Zipcars can also be found at BLVD 63 and Sterling Alvarado Apartments.
If you are interested in becoming a Zipster you can join at Zipcar.com/SDSU. Once approved, you can book cars instantly with the Zipcar app.
Not a student?/Faculty, student leader, alumni or staff? If you're affiliated with San Diego State University, you may still be eligible for a discount on your Zipcar membership.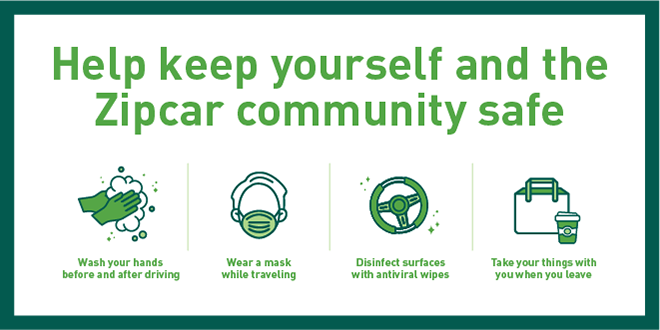 What is Zipcar doing during COVID-19?
Enhanced cleaning protocols and products
Upgraded car-cleaning with antiviral and antimicrobial solutions. Zipcar has also promoted additional healthy hygiene and safety practices within the team that works behind the scenes to care for our vehicles.
Launching Dedicated Zipcar
Drive the same Zipcar Monday through Friday. During that time, only you have access. Pay one affordable monthly fee, plus mileage. Parking spot, gas, and insurance all included. We're also proud to offer a Dedicated Zipcar discount to healthcare providers. Learn more about Dedicated Zipcar.
Practice good hygiene
We are asking our members to continue to be responsible members of our sharing community. Please follow guidance from health experts and use the best judgment regarding personal health. Members can help our car sharing community by bringing disinfecting wipes to wipe down the car for yourself and others.
Additional information regarding Zipcar's measures to safeguard its drivers during COVID-19 can be found here.