Bike Registration
Announcements
e-Bikes & e-Scooters are not authorized in the SDSU residential halls.
Motorized vehicles may not be operated, charged, or stored inside any SDSU residential community or dining facility. This includes, but is not limited to, motorcycles, mopeds, hoverboards, self-balancing scooter boards, scooters, Segways, carts, electric bicycles, electric scooters, etc. Motorized vehicles
used for documented disabilities are exempt from this policy.
Fly Rides, e-Bike Discount Now Available!
We've partnered with Fly Rides San Diego to offer a curated collection of e-Bikes exclusively for SDSU students, faculty, and alumni!
Sign up and save anywhere from $160 - $1000 off your eBike purchase (8% off all non-sale e-bikes; discount varies for e-bikes on sale). The FR team of experts can help you figure out what size, type and specs will work best for your needs.
Check out the Ride Electric or SDSU Fly Rides pages for more information.
WHY RIDE?
prevent the decline of your immune system in the short and long-term
cut the risk of cancer and heart disease by 45%
boost your mental health, helping to make you feel happier and more connected to your surroundings and less prone to depression than other forms of transport
reduce stress and anxiety - any form of physical exercise is good for reducing stress. Cycling can help take your mind off problems, or give you a chance to think about things calmly
reduce congestion and pollution, which contributes to reduced health and premature deaths
reduce pressure on public health services - through reduced obesity, diabetes and heart disease
SDSU Bike Registration
SDSU Parking & Transportation Services offers free bicycle registration for all affiliated students, faculty and staff. Registering your bicycle is easy and can help us locate it and you if it is ever lost, stolen, or found by University Police. Please follow the steps below to complete your registration:
Registration stickers will be available at the Parking & Transportation SubStation Office Service window, Monday through Thursday from 10:30 a.m. to 1:30 p.m.
(* Applicants will receive a free U-Lock and bike insurance through Kryptonite while supplies last)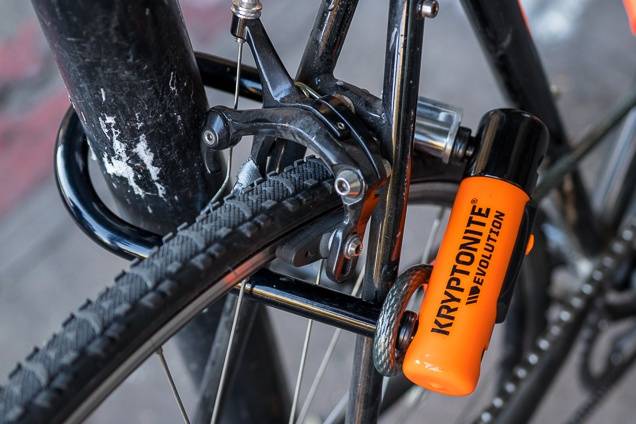 I. Register Your Bicycle:
Fill out and Submit the Bike Registration Form online.** (THIS STEP IS MANDATORY)

Stop in with your bike to our Walk-In Hours (M-TH 10:30am to 1:30pm) & pick-up a registration sticker.

Please bring: RedID card and your bicycle

LOCATION: College Square is

at the corner of College Avenue at 6001 Lindo Paseo

in South Campus Plaza (next to the Starbucks).
Once received, riders must attach SDSU bike registration sticker under the crank system (below):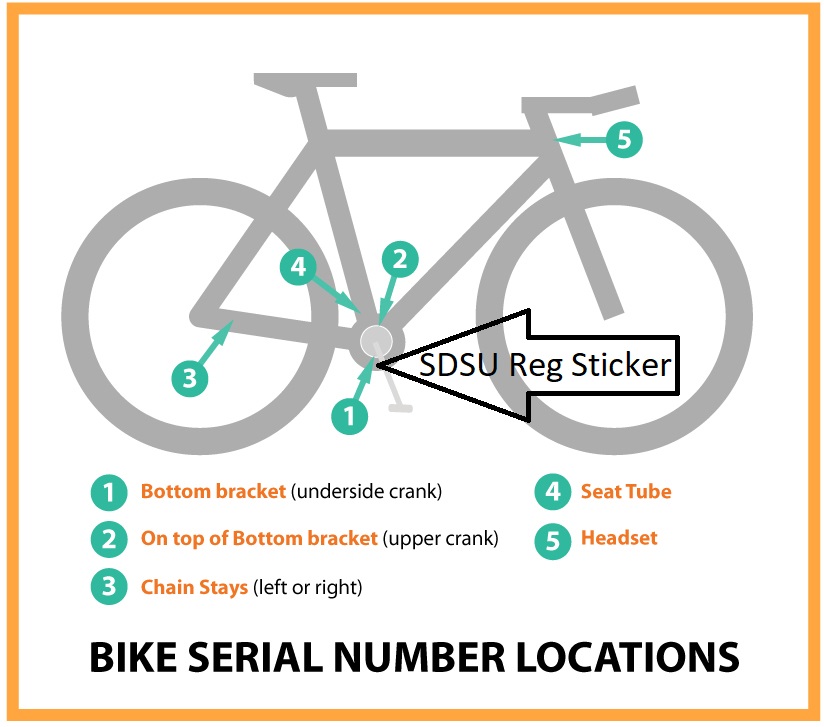 II. NEED ADDITIONAL COVERAGE?
Are you travelling off-campus or across state lines with your bike?

BikeIdex.org will store your registration across statelines, allowing law enforcement to access your records from anywhere! The website is free to register, and allows you multiple bike registrations.
Any questions, please contact Parking & Transportation Services, TDM Coordinator at [email protected].
Bike Cages, Racks, and Storage
You may obtain access to our many bike cages or a bicycle storage room on campus by contacting the Office of Housing and Administration.
Storage keys/space reservations will be available Monday through Friday, 8am to 4:30pm. There is no cost for the storage key or space however, there is a $25 charge for lost or non-returned keys. Bikes must be registered with UPD.
Bicycle storage is located near each residence hall.
Racks on campus can be viewed by visiting the interactive map here
Locker spaces and storage spaces are given out on a firstcome, first-served basis.
No bicycles are allowed inside the residence halls (including student apartments).
Having your bicycle in storage is not a guarantee of security for your bike. We recommend that you do not bring a valuable bike to campus unless it is insured.
The University is not liable for lost or stolen bicycles; please remember to register it with UPD
Read SDSU Bike Lane Safety Guidelines & Ride safely!

REGISTER with the SDSU LOVE TO RIDE Community!
Looking for a community of riders to campus or around San Diego County? Register with the SDSU community on the Love to Ride website today!! Together with the San Diego Bike Coalition - you can record your mileage, set goals for yourself, join other local groups and earn prizes and badges.
FREE Virtual Classes Offered:
Visit Love to Ride's course page to learn more about: Biking in the Rain, Helmit Fit, Lock your Bike..
GO by BIKE! Campaign by iCommute San Diego, offers FREE Virtual Bike Ed classes! Take advantage of these employer services so that you can prepare for your next bike commute.