Bike Registration
Announcements
Registrations/ Transit Pass Requests: Virtual ONLY
The recent status change to the purple tier due to rising case numbers locally, in addition to the recent regional stay-at-home from Governor Newsom, and ongoing health-related impacts within UPD have caused the Department will remain in Phase I of our repopulation to campus.
**All services requiring in-person transactions are ON-HOLD.**
Join the Love to Ride SDSU Community!
Looking for a community of riders to campus or around San Diego County? Register with the SDSU community on the Love to Ride website today! You can record your mileage, set goals for yourself, join other local groups and earn prizes & badges too. Check out the list of virtual courses available at the bottom of this page.
Riding a bike has significant benefits for you as an individual, our communities and our planet.

Riding a bike can help:

prevent the decline of your immune system in the short and long-term

cut the risk of cancer and heart disease by 45%

boost your mental health, helping to make you feel happier and more connected to your surroundings and less prone to depression than other forms of transport

reduce stress and anxiety - any form of physical exercise is good for reducing stress. Cycling can help take your mind off problems, or give you a chance to think about things calmly

reduce congestion and pollution, which contributes to reduced health and premature deaths

reduce pressure on public health services - through reduced obesity, diabetes and heart disease
Bike Registration
SDSU Parking & Transportation Services offers free bicycle registration for all affiliated students, faculty and staff. Registering your bicycle is easy and can help us locate it and you if it is ever lost, stolen, or found by University Police. Please follow the steps below to complete your registration.
Registration stickers will be available by appointment only every Tuesday from 9 a.m. to 3 p.m. [ **This service is ON-HOLD until further notice**]
(* Applicants will receive a free U-Lock and bike insurance through Kryptonite while supplies last)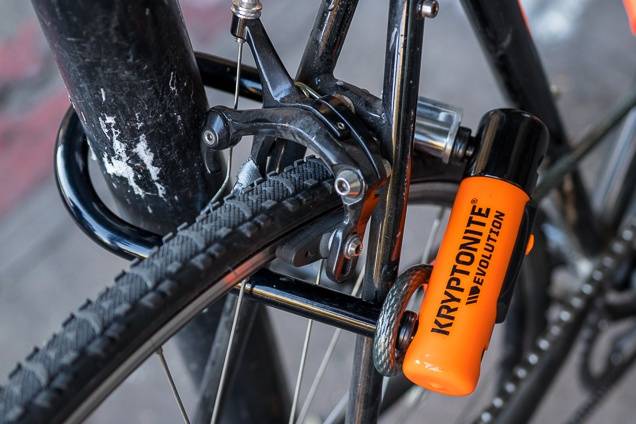 How to Register Your Bicycle
Submit the Bike Registration Form online.
Fill-in your information, and print and/or save for your records.
Schedule an appointment for our office hours (each Tuesday between 9am - noon).
On the day of your appointment - remember to bring:

RedID card
Bicycle
A facial covering
Any questions, please contact Parking & Transportation Services, TDM Coordinator at [email protected].
COVID LOCATION REQUIREMENTS:
You must wear a mask & complete a temperature check log at check-in.
Those who cannot complete a temperature check must complete a Self-Inventory Check Form.
The University Police Department's Sub-Station is located

at the corner of College Avenue and Lindo Paseo

in South Campus Plaza (next to the Starbucks).
Entry by appointment-only at this time.
Once received, riders must attach SDSU bike registration sticker under the crank system (below).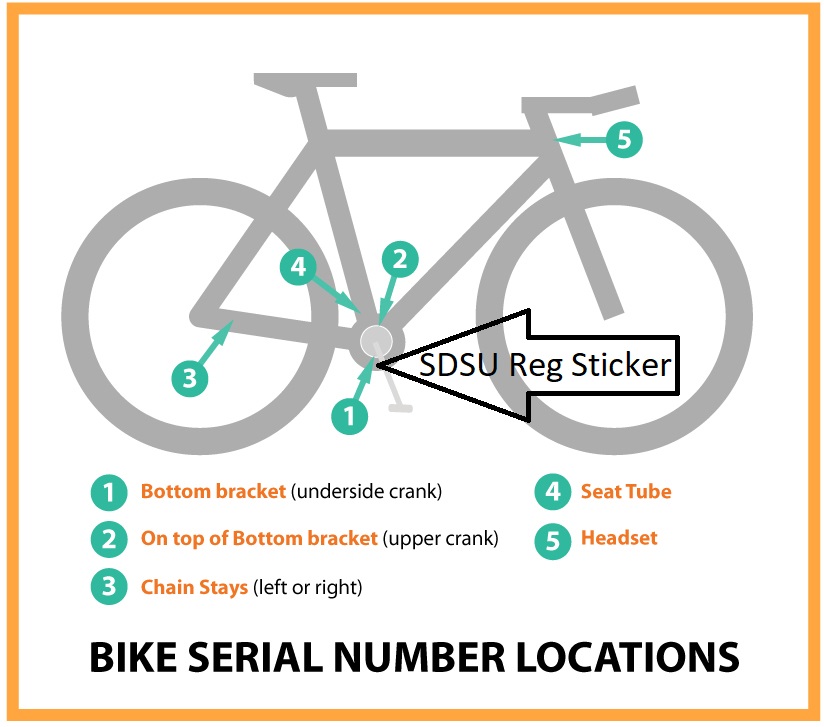 Read SDSU Bike Lane Safety Guidelines & Ride safely!

REGISTER with the SDSU LOVE TO RIDE Community!
Looking for a community of riders, or just more information on how to ride? Join the SDSU Love to Ride Community today! Together with the San Diego Bike Coalition You can record your mileage, set goals for yourself, join other local groups and earn prizes & badges too.
FREE Virtual Classes:
Visit Love to Ride's course page to learn more about: Biking in the Rain, Helmit Fit, Lock your Bike..
GO by BIKE! Campaign by iCommute San Diego, offers FREE Virtual Bike Ed classes! Take advantage of these employer services so that you can prepare for your next bike commute.