Bicycles, Scooters & Skateboards on Campus

Bird Scooters & Bikes: Around Campus
Birds can now be found on-campus with exclusive ride pricing, monthly membership discounts, visitor ride passes and free helmets!
New Program Pricing
Unlock monthly passes available for $5.00/mo. (grants free unlocks on all Birds).
No monthly pass? - Pay as little as $.50 cent to unlock your Bird on campus.
Per minute charge of .34 cents.
Seamless rides from on to off-campus locations.
Average ride 6 min ride on campus costs riders just $0.79! ($0.34 cents * 6 min with (-$1 off for parking correctly), no unlock fee (with a monthly unlock pass) and a (-.25) helmet selfie).
New On-Campus Ride Incentives & Discounts
$1 off your ride for parking correctly.
$.25 cents off your ride for taking a helmet selfie.
Free Helmets supplied by BIRD.
Admission Department ride credits for visitors!
Discount programs: Rider Rebalance, Frequent Flyer and Community Benefits
Low-Income Student Membership Programs
Bird Frequent Flyer Loyalty Program
Now available to frequent users! The program is similar to other loyalty programs allowing riders to earn rides each time they unlock and ride a Bird scooter. However, unlike most loyalty programs, riders do not have the option to earn points or miles. Instead, riders can only earn rides. Rides count towards status with Bird. Each status tier allows riders to access various perks, including discounts, priority customer support, and advanced ride reservations.
The program is straight-forward and easy to use. Riders are informed of their current status as well as the number of rides required to reach the next tier when they open the app. Riders will also find details by navigating to the in-app menu and selecting the rewards bar located near the top of the screen.
Bird's Frequent Flyer loyalty program features three tiers; Silver, Gold, and Platinum. Each tier features a variety of benefits, including: discounts, advanced scooter reservations, and priority support.
View the Frequent Flyer terms and conditions.
What benefits can I earn, and how do I get them?
Benefits will be automatically applied to your account based on how often you ride, as your rides increase so do your benefits.
If you ride 5 times in the next 28 days, you'll gain access to these rewards:
Get 10% off on all rides
Reserve your Bird in advance for up to 30 minutes at no cost
If you ride 10 times in the next 28 days, you'll gain these additional rewards:
Get 20% off on all rides
Reserve your Bird in advance for up to 60 minutes at no cost
Priority support, skip the queue
If you ride 20 times in the next 28 days, you'll gain these additional rewards:
Get 30% off on all rides
Reserve your Bird in advance for up to 60 minutes at no cost
Priority support, skip the queue
Should you like to request a device be moved or wish to register a complaint, please contact Bird directly at: [email protected]
Consumers Advocate Organization is an available resource for those that may seek added insurance protection when riding e-scooters.
Bike Facilities and Riding on Campus
Non-motorized bicycles, scooters and skateboards are permitted on curbed roadways of campus, and on the designated bike path on Aztec Walk and Campanile Mall. All riders are required to follow SDSU regulations and park all bikes at a bike rack, cage or designated corral area. Parking in undesignated locations can result in adminstrataive citations and / or impound of the bike. For more information and safety guidelines please see the Parking Rules & Regulations & Green Love Bike-Lane Safety Guidelines.
Please continue to use the designated parking corrals to stage/leave your scooters. The bike path shown below is where Birds can ride and park. Bird Parking Map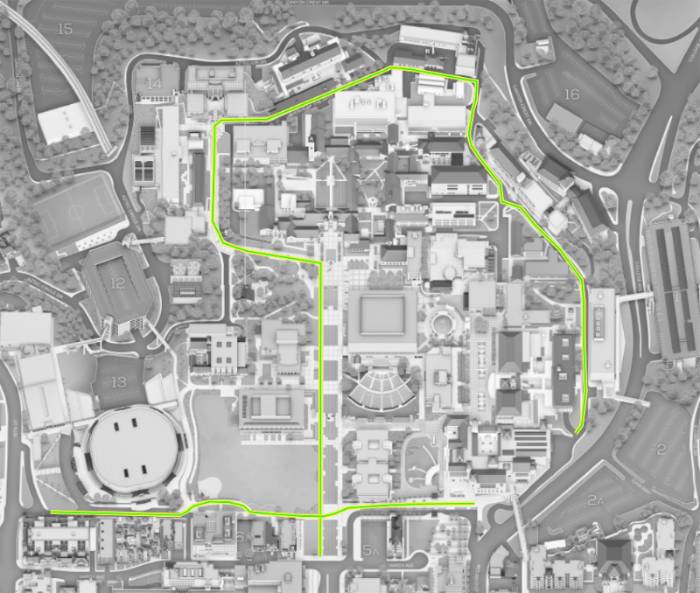 FOR MORE INFORMATION ON REGIONAL COMMUTE ROUTES VISIT:
https://www.icommutesd.com/bike/BikeMap.aspx
Riding on Campus
When riding on campus you are required to only ride on the designated path shown above.
When riding on campus you do not have the right of way. Pedestrians always have the right of way.
Be courteous to others and aware of how you riding could impact the safety of others on campus. Even though you may be in control of your bike or skateboard you cannot assume the pedestrians near you are aware of your presence.
Riding on City Streets
The San Diego Municipal Code and the California Vehicle Code require that all bicyclists and skateboarders obey the law.
When riding a bike on city streets you must obey all California vehicle laws. This means stopping at stop signs and riding with the flow of traffic.
When riding a skateboard on city streets you must ride only on the sidewalks. Riding in the roadways is a misdemeanor.