Bicycles, Scooters & Skateboards on Campus
Are electric bicycles, scooters & skateboards authorized on campus?
No, the use of electic bicycles, scooters and skateboards is not permitted on campus. You may use these devices to commute to campus. However, you will be required to dismount once entering campus. Electric share bicycles and scooters will be required to be parked in the designated parking corrals located around campus (See Micromobility map below).
Should you like to request a device be moved or wish to register a complaint, please contact the vendor directly at:
Consumers Advocate Organization is an available resource for those that may seek added insurance protection when riding e-scooters.
Bicycles are permitted on curbed roadways of campus and on the designated bike path on Aztec Walk and Campanile Mall. All riders are required to follow SDSU regulations and park all bikes at a bike rack. Parking in undesignated locations can result in adminstrataive citations and / or impound of the bike. For more information and safety guidelines please see the Active Transportation Policy & Green Love Bike-Lane Safety Guidelines.
Where can I ride my non-electric/motorized bicycle, scooter & skateboard on campus?
The campus has a designated path on Aztec Walk and Campanile Mall in addition to inner campus roadways for you to ride your bikes, scooter and skateboards (see map below). Riding on any other walkway is in violation of SDSU policy and can result in a citation. For more information please visit the University Police Department's Administrative Citation Program page.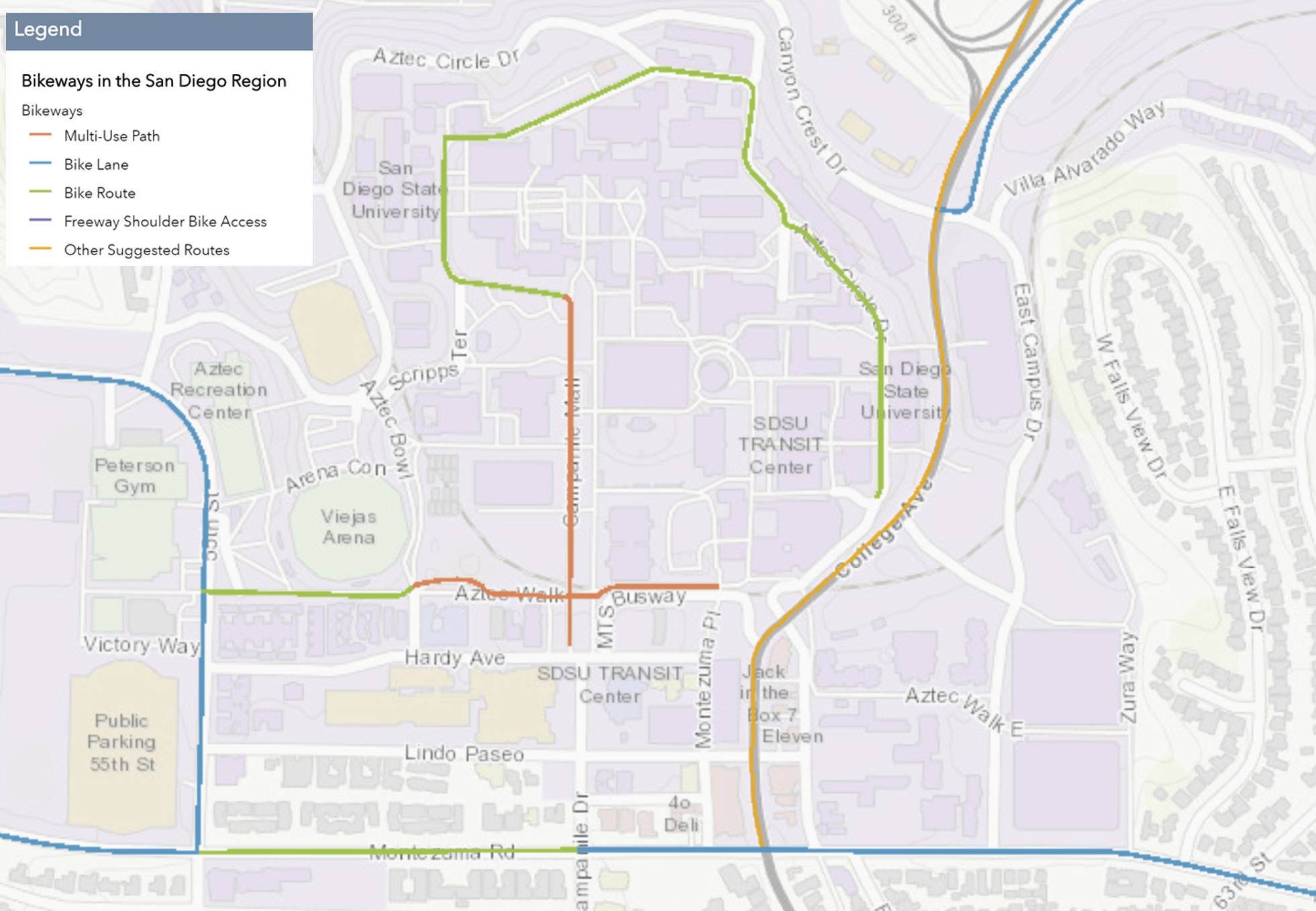 Riding on Campus
When riding on campus you are required to only ride on the designated path shown above.
When riding on campus you do not have the right of way. Pedestrians always have the right of way.
Be courteous to others and aware of how you riding could impact the safety of others on campus. Even though you may be in control of your bike or skateboard you cannot assume the pedestrians near you are aware of your presence.
Riding on City Streets
The San Diego Municipal Code and the Calfornia Vehicle Code require that all bicyclists and skateboarders obey the law.
When riding a bike on city streets you must obey all California vehicle laws. This means stopping at stop signs and riding with the flow of traffic.
When riding a skateboard on city streets you must ride only on the sidewalks. Riding in the roadways is a misdemeanor.